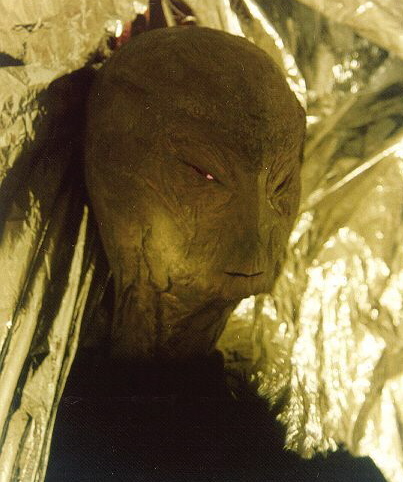 I'm a skeptic- but a healthy one. Im open to anything you can show me to prove that Aliens exist and I'll believe it UNTIL you show me completely ridiculous evidence.  I actually want aliens to exist! I think that would be really interesting and cool!
Tonight I came home and watched Fake or Paranormal on TV and they picked the Dr. Reed story.  I actually had not heard about this and wanted to desperately believe it. The show ironically did not even address some of the BS evidence in this guy's story. What they did do was show how to make the alien and supposed spaceship (exact replica of his videos)-which further shows this guy's a total fake; a rich fake to be exact.  Take a look at a few of these videos below.
The story goes that Dr. Reed was walking his dog in the Washington forest (6 miles outside Seattle) and his dog mysteriously starts running/barking and breaks away from his leash. Dr. Reed runs after his beloved pet when he sees a creature about 5 feet tall ripping the dog to shreds. He hits the creature over the head with a stick and it falls to the ground bleeding. He suddenly sees an oblique floating shape nearby. He specifically states that the object is 3 feet by 2 feet.
After the dog is dead, he says the alien turned the body to ash.  Reed grabs a video camera and starts filming the scene WHILE throwing up and breathing heavy. He takes the alien back to his house-wraps it up in a survival blanket-puts it in the freezer and then takes a NAP and decides he can't sleep so then he films the body again. Most people think the video is real because the alien's eyes blink several times. Mmmmmkay.
Here are things the show did not discuss: First, how does a dog turn to ash and you don't get any footage of that on the ground??? Second, how does a 5 foot creature sit in a 3 foot spaceship? Does an Alien wear black dickies? Why do aliens in these types of videos always look the same? How is it that the alien can rip your dog to shreds but lets you walk up towards it and hit it in the head with a stick? Why take a nap when the weirdest and most insane thing happened to you? Do aliens really bleed like human beings? Since when does the skin on their head look like a piece of bologna? Did you also notice in the alien body footage below that he's breathing heavy- but at the same pace the entire video? LOL.  Last but not least- why is the alien head white in the first part of the film and then dark brown in the second?
Fake or Paranormal decided that he was faking it- and I totally agree. This guy is LOADED because of this video and a bunch of you fell for it. The show also did a lie detector test on his voice and found him to be stating lies through out most of the big parts of the interview. Really?  Geez. This is a total case of a loner living in the forest trying to pull a fast one.
Supposed Spaceship in the Forest