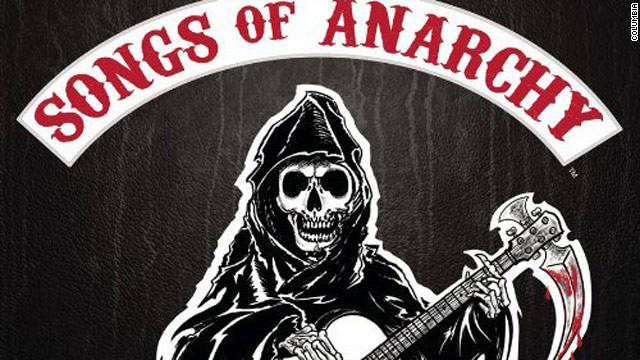 Everyone kept telling me to get out of my fantasy land shows (Game of Thrones, True Blood, Walking Dead) and focus on something real and raw for a change like bikers, sweat and bullets.
I really wasn't excited about the premise…… People beating other people up. Ugly leather vests that HAVE to smell at this point. Beards and bellies…..
I finally gave in and watched season 1 and was instantly hooked…I'll paint you the brief summary of what the show's about
Here's the most important character, Jax (Jackson) Teller. Let's all take a moment for this to sink in….
OK, you all ready to keep reading?
The story is about Mister Jax Teller, his crazy controlling mother, Gemma (Katey Sagal) and his step father Clay Morrow (Ron Perlman). Jax's real father, John Teller, was the original founder of a very popular motorcycle club called "SAMCRO"- acronym for  the club in northern California aka "Redwood Originals".  This is a story about the entire original crew led by Clay Morrow, and second in command, Jax, their wives, and their CRAZY world.
It's all about retaliation and trying to survive.
Here's why you should watch it:
1. FANTASTIC CREATIVITY/ORIGIN–The series is written by Kurt Sutter, Katy Sagal's husband, and I heard he wrote it initially to be a big new role for his wife. He's got a great part in the series playing "Otto" one of the MC members who's been in jail pretty much the entire series.  Here he is in the middle with glasses on.
2. MULTIPLE STORIES OF INTEREST–Each episode has tons going on. They aren't afraid to end and begin multiple stories and hooks which is fantastic. You don't have to wait forever to feel movement in the show.
3. CHARACTER DEVELOPMENT- Kurt created wonderfully complex characters trying to make it in normal society, but their lives are far from normal. We live this thru Tara Knowles (played by beautiful actress Maggie Siff), aptly a doctor who has always been in love with Jax since she was a teenager.
4. RAW SHOTS–I've never seen so many pock marks and bruising on a TV series that actually looks REAL.
5. VIOLENCE–They do some nasty shit to each other- reminds me of "Lawless", the film with Tom Hardy that was out recently.
6. WHAT A CLUB MEANS–Brotherhood is a major theme, and like I mentioned above, these guys will do anything for each other, but shit starts to get real and the web of lies grows too big.
7. CHAOS–The lives of the MC clubbers is so chaotic it's almost silly, but it really does pull you in further in each episode.
8. GUNS GUNS AND MORE GUNS–I loved the plot lines with the Irish IRA.
9. SHOCK- Great story lines with Clay, Gemma, Jax and Tara and it gets really fantastic and explosive in Season 4; doesn't disappoint –it's the dessert you've been waiting for by then.
10. RANDOM CHARACTERS—I absolutely LOVE the Potter character (Asst. US Attorney) in season 4. What a creepy yet perfectly crafted character! He carried that whole season. Also, the two fingers dude is HILARIOUS….. "I ACCEPT THAT"!!!